Health and Safety
Your Private Island Awaits
Thank you for your continued trust, and understanding in these unprecedented times. Your private island resort awaits, where health and safety is always our highest concern. We pride ourselves on being one of the top resorts in the world, and our commitment to health and safety has never been stronger. Our promise remains to go above and beyond to keep you, our guests, and team members safe.
We have been distinguished with the Belize Gold Standard Certification.
This 9-point program has enhanced our island's already stringent health and safety protocols. Our team has administered new enhanced procedures and training to ensure guests can visit our island with confidence in the cleanliness and safety of our private resort, while providing our team with the safest work environment possible.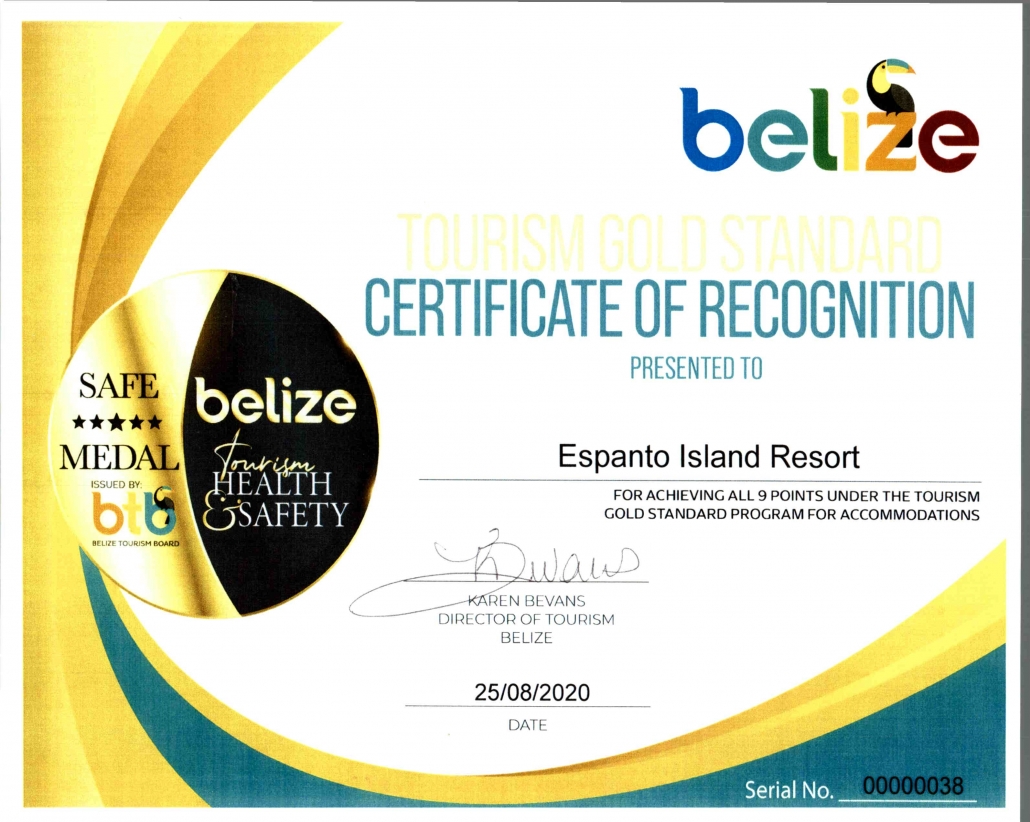 Here at Cayo Espanto, we promise to uphold and exceed all strict health codes and standards for our guests. Our entire team is trained and holds true to these high standards. We recognize that a pristine environment is an enjoyable one. Fortunately, because we are a private island, we are better able to control the happenings at the resort.
A list of our new island health standards can be found below. Cayo Espanto's main goal remains to provide guests with the best and most unforgettable experience in a safe, clean and COVID free environment.
Please feel free contact us directly via phone, or email if you have any additional questions or concerns.
We are looking forward to welcoming guests back to their own private island and the wonderful country of Belize.
See you in paradise,
David Benzaquen
GM
Cayo Espanto,
A Private Island, Belize
910-323-8355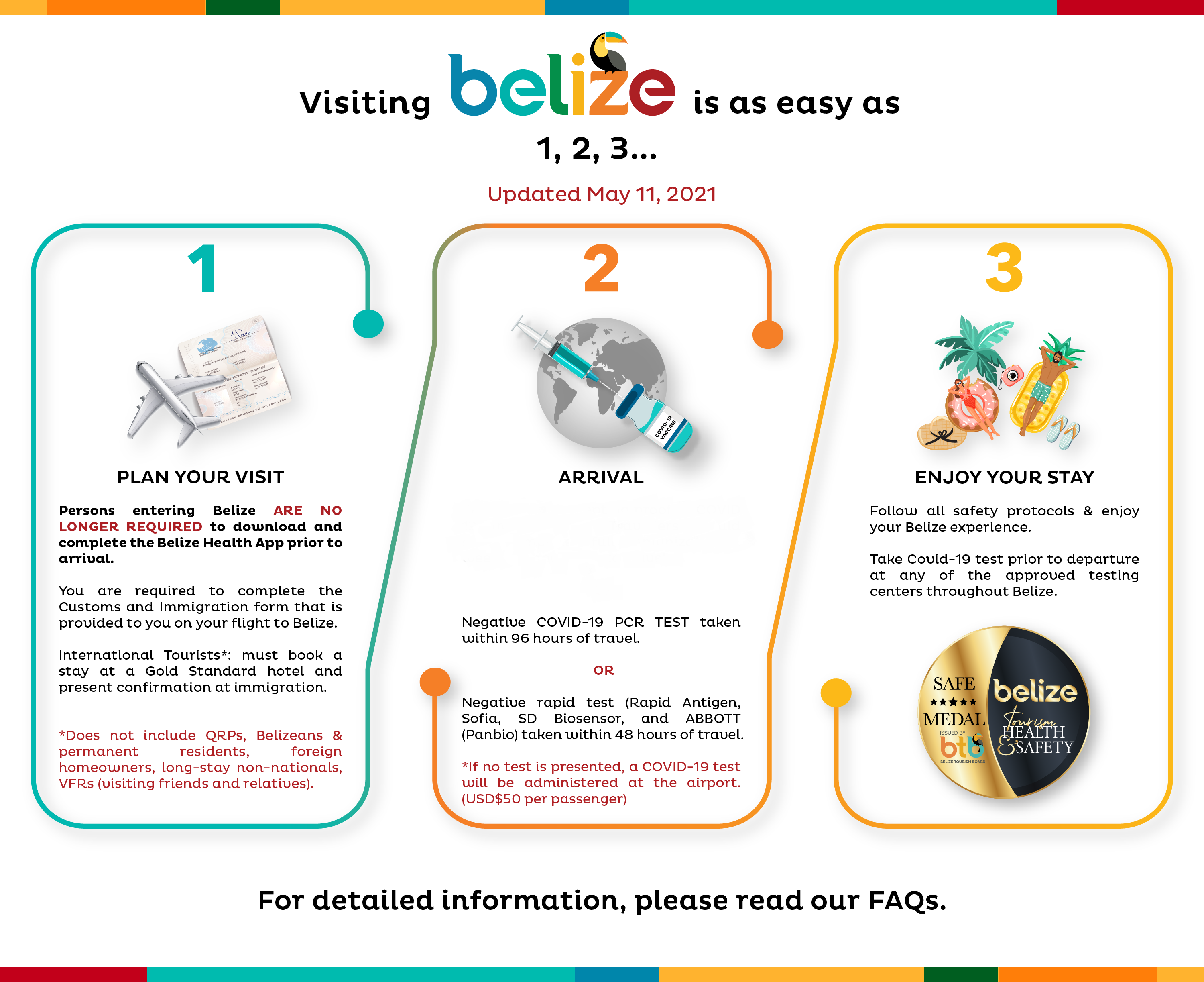 Cayo Espanto is a luxurious private island resort located three miles off the coast of Belize. Home to seven villas total, with each boasting their own private pool, dock, serviceman, secluded setting and more, there is no better or safer place to enjoy an exclusive getaway. Cayo Espanto has set the tone for excellence in service, amenities and offering a pristine environment for over 20 years. Providing an unforgettable and safe experience for every guest remains the top focus. The following health & safety protocols implemented by Cayo Espanto has led the private island resort to be recognized as a Tourism Gold Standard Hotel by the Belize Tourism Board, including:
Ensuring proper use of face mask and hand sanitization by all employees
Maintaining social distance between staff and guests
Increased frequency of cleaning and sanitizing of all areas of island resort, including boats used for tours and transport, kayaks, hobi cats, etc.
Daily contactless wellness check point for all employees
Detailed COVID-19 training on health and sanitization protocols for staff
Providing guests with disinfectant, hand sanitizer and hand wipes in every villa
Disinfecting each guests' luggage upon their arrival
Arranging private tours for each party throughout their time at the resort
Our team prides itself on creating the best experience for each guest throughout their time at Cayo Espanto. The safety and wellbeing of our visitors remains the top priority. Should you have any questions on the above health and safety protocols, travel insurance or additional amenities of the private island resort, please do not hesitate to reach out to our team directly.
Travel Information
Effective March 2, 2021
Due to the new CDC requirements stating that all air passengers arriving to the US from a foreign country provide a negative COVID-19 test result taken 3 days prior to their return flight departure, Cayo Espanto will be providing on-island testing for guests.
We have arranged for our island physician to administer testing from each guests' villa during their stay, allowing for easy and quick compliance for an uninterrupted getaway experience. Test results will be brought directly to guests, the same day, to provide additional convenience and discretion. Pricing for this personalized service will be $130 per person and can be added to your island bill to be settled upon check-out. Please note the $130 charge is our direct cost from the physician.
Testing
Belize Requires A Negative Covid Test for All Travelers
All travelers, both vaccinated and unvaccinated, entering Belize from other countries will be required to present a negative COVID-19 test.
Visitors are encouraged to take a PCR test within 96 hours (4 days) of your original travel departure to Belize which will fast track your entry into the country. A certified negative result will put you on the fast track arrival lane at the airport.
An official email or correspondence from the testing facility will be acceptable. We recommend bringing as much documentation/proof as possible. It is still possible that you will be selected for testing at the airport when you arrive.
Rapid Antigen, Sofia, SD Blosensor and ABBOTT (Panblo) COVID test taken nor more than 48 hours prior to travel will also be accepted.
If you don't have a certified test prior to arrival, you will be required to take a rapid test when you arrive at the airport. The cost of the rapid test will be $50 USD. You may also bring your own rapid test kit to be administered by health officials at the airport in Belize.
Upon Arrival
Upon arrival at the airport, there will be a health screening, and temperature checks.
The Ministry of Health has established a testing area at the international airport just outside of Terminal 2. The clinic can accommodate 12 passengers at a time for testing, and is air conditioned with restroom facilities.
During your stay, you must adhere to all health and safety protocols in Belize including social distancing, and wearing of masks in public, when required.
Movements Within the Country
Guests must be transported to approved Gold Standard hotel, by approved ground/air transportation, and participate in approved tours with approved Gold Standard tour operators and guides
References
For further information:
https://www.travelbelize.org/health-safety
For information on Covid-19 testing locations in the US:
https://www.hhs.gov/coronavirus/community-based-testing-sites/index.html
For information on CVS Minute-Clinic testing locations in the US:
https://www.cvs.com/minuteclinic/covid-19-testing
Other resources may include the Belize Tourism Board Gold Standard Health and Safety Guide.